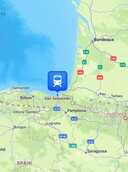 We visited San Sebastian/Donostia, Spain in the fall of 2022. You can read our story here: San Sebastian/Donostia
Getting There
One of the reasons San Sebastian is somewhat off the beaten path is because it is literally off the beaten path. The closest airport is the small regional airport of Hondarribia (EAS) about 30 minutes by bus or taxi from downtown San Sebastian. The airport at Bilboa (BIO) is much larger and handles numerous international flights daily, but it's about 90 minutes by bus or taxi from downtown San Sebastian. It's important to note that as of this writing, bus and taxi service was plentiful and reliable in San Sebastian but train service was a little complicated and Uber/Lyft services were not allowed inside the city limits. It should also be noted the Spanish Province of Gipuzkoa requires provincial publications and things like street signs to be dual language Basque and Spanish, which is why the city is officially named Donostia/San Sebastian.
Staying There
There are many options for staying in San Sebastian. On our first trip we stayed at the luxurios Hotel de Londres right on the Playa Concha Promenade. Probably the most famous hotel in the city is the Hotel Maria Cristina with the cool Dry Bar San Sebastian Cocktail Bar. There are also hundreds of short-term apartment rentals throughout the city. We used The Rentals Collection as a short-term apartment property manager for our 3br/3ba apartment on the square of Buen Pastor Cathedral just a 5-minute walk from old town and Playa Concha.
Eating There
There are three foodie experiences not to miss in San Sebastian: Pintxos, Michelin Stars, and the Mercado de La Bretxa fresh market. Below we have listed Trip Advisor Links to help you find your way around some of the better San Sebastian Restaurants.
Pintxos
- La Cepa
Whatever you do, after roaming the streets of old town scarfing Pintxos, stop by Bar La Vina for Burt Cheesecake!
Michelin Star Fine Dining
The Michelin Guide App is an excellent resource for fine dining all around the world. Here are some of the Michelin Star Restaurants we sampled during our last stay in San Sebastian.
- Kokotxa, *
- Martin Berasategui, ***
- Arzak, *
- Akelarre, ***
- Alameda, *
- Mugaritz, **
Exploring There
Here is a brief pot pourri of things to do in San Sebastian:
- Aquarium
- Surfing Playa Zurriola – Surf Cam
- Hike Mount Urgil to El Sagrado Corazo (Statue of Jesus Christ)
- Parque Amusement Mount Igeldo
In addition to the information above, here are some good Donostia/San Sebastian Tourist Links: